Laundry cabinets in a box - The easiest & most cost effective way to renovate!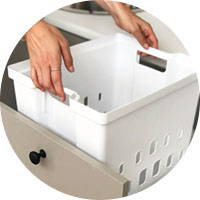 Awesome Extra's
All-Inclusive, cabinets with bench, laundry basket in cabinet, sink and tap!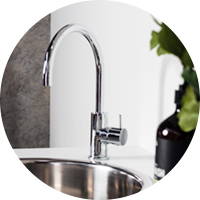 Australia's Best Brands
Polytec, Blum, Furnware, Caroma and Clark to name a few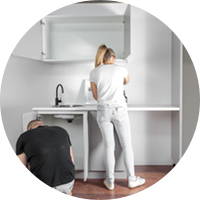 Already Assembled 
Keep your installation costs down with already assembled laundry cabinets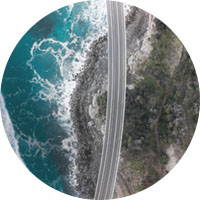 Delivered
That's right, your new laundry cabinets delivered to your home
Frequently Asked Questions
What is included in a laundry in a box?
A whole heap of value!
Double overhead laundry cabinet
Tall laundry cabinet
Double floor laundry cabinet
Single floor laundry cabinet with pull out laundry hamper on Blum runners
Kick-boards and adjustable cabinet legs
All coloured end panels fitted to the cabinet to save you time
Laundry benchtop
Handles
Laundry sink
Laundry mixer tap
We only use Australia's best brands, including Polytec, Blum, Furnware, Caroma and Clark.
What is an assembled Laundry?
Unlike a flat pack laundry cabinet, our laundries are delivered assembled. This means all cabinets are already assembled with doors and hardware fitted plus any internals such as pull outs are fitted. Handles, kickboards and fillers will still need to be fitted on site to suit your space.
There are two main benefits of an assembled laundry cabinet over a flatpack cabinet:
Saves you time and money assembling the flat packs before installing the cabinet on site. Your installer will charge you extra to assemble a flat pack before installing it.
Reduces the chance of on-site issues such as missing pieces and damages as we check all cabinets in our factory before they leave.
Can I make changes to my Laundry in a Box?
We can mix and match a range of laundry cabinets from our favourite suppliers Timberline and ADP.. Reach out at (02) 9674 1000 and we can get a quote over to you.
Our laundry in a box solutions can be delivered to most areas on the East Coast of Australia. Check the delivery calculator on each page to see if delivery is included in the price or check with our friendly customer service team on (02) 9674 1000 for delivery costs to your area.
A pick-up option from our factory in North West Sydney is also available if you have a suitable ute, van, trailer or truck!
What are the delivery timeframes?
Our factory is located in North West Sydney and once your laundry cabinet order is placed, the team will build your cabinets based off your colour selections and have it sent to you within 2 - 3 weeks. If you need it faster just let us know and we will see what we can do!